GCell is the UK manufacturer of the world's first Solar iBeacon.
We've got everything you need to get started with proximity marketing. GCell iBeacon devices are coupled with our mobile engagement platform and deployed using our installation services.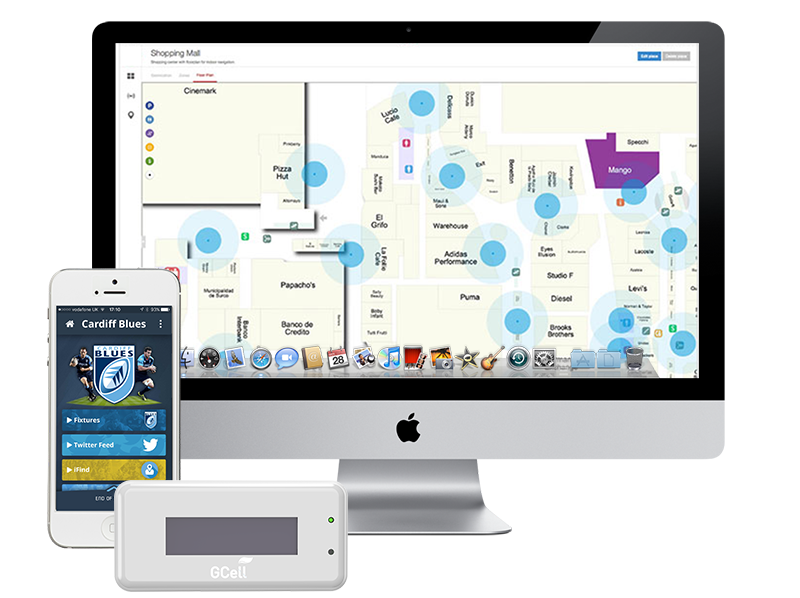 What is iBeacon?
iBeacon is a device to broadcast Bluetooth® signals that a smartphone can receive and understand.
These broadcasts unlock the potential to communicate with audiences at your chosen location. Right at the time of their visit. This makes iBeacon the perfect tool for creating micro-location and contextual user experiences.
Once you've added the GCell Standard Developer Kit (SDK) to your app you can understand their proximity to nearby locations and objects. You can also recognise a range of app user insights including location, movements and habits.
This data can be used to build a new generation of magical mobile apps and user experiences that connect our physical and digital worlds.
GCell offers a range of solar iBeacon and long-life iBeacon designed for large-scale commercial and enterprise use. All GCell Beacons are certified Apple iBeacon™ compatible.
To find out more about iBeacon click the Apple iBeacon for Developers link below.
iBeacon for Developers
Not all iBeacon hardware is the same

GCell Beacons are certified Apple iBeacon™ compatible.
Introducing the world's first solar iBeacon.
G100 Solar Beacon
8 Year average lifetime at 100ms (iBeacon Standard)
Works with any visible light – even indoor LEDs
3-25 meters range
IP65 weatherproof enclosure
Long-life enterprise-grade iBeacon.
G300 Universal Beacon
5 Year average lifetime at 100ms (iBeacon Standard)

3-25 meters range

IP65 rated weatherproof enclosure
Mobile engagement platform
Create app user experiences around our enterprise-scale mobile engagement platform
Jaffa cakes eaten at our factory
SINCE LAUNCH
A whole new level of match-day experiences
Deliver exclusive fan experiences during game-day, including click n' collect shopping promotions and rich content. Capture insights into fan movements and react with live audience targeting using iBeacon.
STADIUMS
---
The GCell Beacosystem
Unlock the power of our enterprise-grade location technologies in three easy steps
Purchase & deploy GCell iBeacon.
Not only can we provide you with Bluetooth Beacon devices;
we can help you deploy and install them too!
Install GCell SDK into your app.
You now have the power to unlock:
Micro-location & contextual customer experiences
Turn-by-turn indoor navigation
Real-time targeting.
Gain customer insights.
Gain insights into audience movements & your app engagements
using our big-data platform.
Get in touch
We love hearing from you!
Call us on:
Tel: +44 (0)1633 654 200
or send us a message…